We post new blog entries throughout the week, including Scholar Spotlights, tips on college success, and college admissions, so

becoming a follower

will allow you to stay up-to-date with all of our posts!
Why should I become a follower?
Following a blog shows authors and readers of the blog that you're a fan, and you can keep track of the blogs you follow via your
Reading List
on the Blogger dashboard. Following a blog will also create a subscription to the blog in your
Google Reader
account, so you are able to see all of our posts whenever you log on!
Google has produced the following to easily explain how you can become a follower of Take Stock in Children Alumni Alliance!
How do I follow blogs?
There are several ways to follow a blog. One of the easiest ways is to click on the "Join this site" button under the "Followers" widget on our blog (it is on your right-hand side)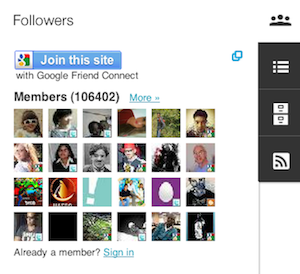 Select how you'd like to follow the blog, then click the "Follow this blog" button.
If you elected to follow the blog publicly, your profile picture will be displayed on the blog with a link to your Blogger profile or Google+ profile (if you've opted to link your blog to your Google+ profile).
When you become a follower of a blog, the blog will also be added to your

Reading List

on your Blogger dashboard.
You can also become a follower by adding the blog to your Reading List on the dashboard.
So become a follower today, and happy reading!